Vancouver Household of Faith Community Church Shared Meal Guidelines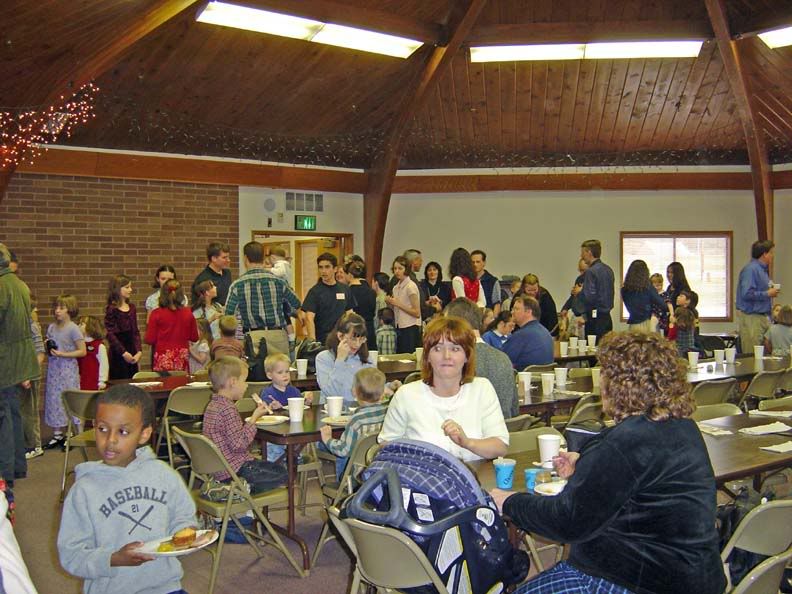 Click to open a PDF copy of the Shared Meal Guidelines. This is formatted so that you can print your own copy in booklet form. Right-click and select "Save Link As..." to download.
WHY DO WE HAVE A SHARED MEAL?
"...they were taking their meals together with gladness and sincerity of heart," (Acts 2:46)

Our Sunday Shared Meal is an important time for getting to know one another well enough to begin sharing our lives with one another during the week. Church leaders and established members need regular time together to maintain contact with one another. Visitors and new members need time to establish and deepen new relationships with others.

The early churches described in the New Testament seem to have used a Shared Meal for these very purposes. It was a regular time of mutual hospitality that functioned as a weekly family reunion. In order to fulfill these same purposes today, the Household of Faith Community Churches practice taking our meals together on a weekly basis with gladness and sincerity.

Our Shared Meal is an opportunity to honor God by serving one another in love! We begin serving one another by preparing our food well. We strive for excellence while still keeping things simple. We continue serving one another by agreeing to serve together on the kitchen crew, to set up and clean up, and to take laundry home. This service continues through enjoying one another's company during and after our meal in age-integrated, family-to-family, table-talk conversations. Finally, we serve one another by clearing the tables for one another after the meal. Our meals together as a church body also can be a good training ground for the way meals should be in our homes every day.

But just as our family meals can drift into selfish behaviors, so our Shared Meal on Sundays can also drift. (see I Cor. 11:17-22) If we are not diligent in keeping a sincere and glad spirit, it will lose its godly focus. We must continually remind each other of our high calling and godly standards regarding this issue. Our goal each week must be to share a joyful and refreshing meal during which we truly get to know one another better in Christ. -Gregg Harris, 2003 (adapted)
KITCHEN DUTY — A SHARED SERVICE
Kitchen duty is scheduled on a rotational basis. We are grateful for everyone's participation. With the current number of families here at Vancouver HOFCC, most families will serve only six times per year.

No matter who is on duty each week, everyone is able to help make the cleaning time go more smoothly. "MANY HANDS MAKE LIGHT WORK." If we all share in the work, we can truly "take our meals together with gladness."

Thank you for helping to make our Shared Meal a wonderful time of serving one another in Christ's love!

FYI: Instructions for set-up and clean-up will be in a 3-ring binder on the counter, or in the Dorcas closet. All non-refrigerated supplies are in the Dorcas closet.


SHARED MEAL COURTESIES
First Time Visitors, please, please, please be our guests! Don't worry about bringing food, just come and enjoy the meal and the fellowship!

Guests, we have reserved a place for you at the front of the meal line! Please honor us by going to the start of the line with the family that invited you, and plan to sit across from them during our Shared Meal.

Regular Attendees, please bring sufficient quantities to share your main dish, side dish and dessert.

Families, please sit together on one side of the table as much as possible or practical, and make arrangements to sit with a new family, or a family that you have not shared a meal with recently.

Families should go through the line together.

Everyone, please moderate our portions so as not to be overfilled while others are left hungry. Parents, please monitor your own children who may wish to take more than they can finish.

Laundry help: If a family on kitchen duty cannot take laundry home, they will need a volunteer. We appreciate your help!


WHAT TO BRING TO SHARED MEAL
DO BRING: A main dish, side dish (salad, bread, etc.) and a dessert. Please remember to bring your own dish for serving your prepared food and side dishes, including canned items such as applesauce, fruit or vegetables. Please prepare foods as much as possible at home, including cutting, slicing, dicing, etc. (Even desserts can be pre-sliced to save time.) Thank you!

DO BRING: Enough food to serve your own family members, plus extra portions for a few guests. In that way, we can serve any visitors who might agree to stay and eat with us.

DO BRING: A big box, laundry basket or cooler with your family's name on it to keep all of your shared meal and other things together. Family boxes can be stored under the serving tables. Please mark or label your dishes and crock pots for easy identification. Tape and markers are on the kitchen counter.

DON'T BRING: Peanuts, dishes or desserts containing peanuts, peanut butter, or peanut derivatives (no Peanut M&M's, peanut butter cups, Snickers, peanut butter sandwiches, etc. Note that PEANUT ITEMS CANNOT BE IN THE BUILDING AT ALL.

DON'T BRING: Raw meat products to be prepared in the kitchen. All meat must be pre-cooked, and in your own dish.

DON'T BRING: Serving spoons, pot holders, towels, etc., unless you need them for transportation. Then put them into your own box so they will be sure to go home with you.

If you bring a dish that is SPECIFICALLY ALLERGEN-FREE (i.e., gluten-free, dairy-free etc.) please label it as such. This is helpful to others with diet restrictions.

V-HOFCC PROVIDES: All utensils, water, coffee, tea, paper ware, plastic ware, and common condiments (salad dressing, ketchup, mustard, and butter). Aprons for those working in the kitchen are also available.

***NOTE REGARDING FOODS THAT REQUIRE EXTRA PREPARATION: Foods such as hot dogs, chicken nuggets, corn dogs, pizza, and ice cream pose challenges for the those working/serving in the kitchen, so we ask that you be responsible for baking, cutting, and serving food that is not prepared ahead of time (after the ovens are free). Please serve any ice cream you bring. We would also ask that you clean-up after serving these items, including washing any church pans used. Many foods, including hot dogs and corn dogs, can be cooked at home and then kept warm in a crock pot.
HELPFUL TIPS FOR SHARED MEAL
THE DISHES IN THE KITCHEN ARE ONLY FOR USE IN UNEXPECTED SITUATIONS. If you need to use them, plan on washing and putting them away yourself, after the meal. The kitchen crew is NOT responsible for washing all the dishes.

V-HOFCC HAS ITS OWN TUB OF SERVING UTENSILS. If possible use only these and put any others that are not marked 'HOFCC' back in the appropriate drawer.

PLAN AHEAD WISELY. There are potentially two hours for your dish to be in the oven or for your crock pot to be on. If your dish will need more warming/ cooking time, please plan ahead and start it at home. If your dish needs a shorter cooking time, you will be responsible for seeing that it gets started at the appropriate time.

USE CREATIVITY AND COOK SIMPLY. Covered dishes, salads, and desserts can be simple without sacrificing quality: A baked chicken, a beef stew, a potato casserole, a bowl of washed and shined apples, a vegetable tray, cookies, brownies. Fruit is an appropriate dessert choice. The less you have to prepare in the kitchen, the better.

INVOLVE TEENS. Our Shared Meal is a wonderful opportunity for our young adults to share their growing culinary expertise. It also gives Mom and Dad some valuable help in the kitchen. Work as a family team.

SINGLES ARE ENCOURAGED TO JOIN WITH FAMILIES TO HELP IN THE KITCHEN WHENEVER POSSIBLE.
WHAT TO EXPECT ON SUNDAYS
WHEN YOU ARRIVE AT CHURCH:
Please be responsible to put your own food where it belongs (e.g. cooking oven, warming oven, refrigerator). Put all cold or frozen items in the HOFCC refrigerators that are in our room at the opposite end of the building off the right front corner of the sanctuary.

Place any boxes/coolers somewhere out of the way (under the serving tables, against the wall, or in your car).


AFTER THE SERVICE
Please keep young children out of the kitchen. Hot ovens and hot food are dangerous to little ones!

Please don't visit in the kitchen.

All food will be placed on the serving tables unless you need to do something additional to it. Older children may help with this process (after first receiving approval from an adult who is serving in the kitchen).


WHEN OUR SHARED MEAL IS OVER
Please clear your own table, and tidy the area under and around it. Then put personal items in your family box/basket and return it to your vehicle. Any help that you or your children can provide to the clean up crew would be very much appreciated.
Parents, if your children want to play outside or in another part of the building, please check on them periodically. Stay close.
You are responsible for their safety at all times
. The children should not be running inside the building or playing in the sanctuary.
We should exemplify a spirit of thankfulness, this being chiefly expressed through our respectful stewardship of the church facilities.
BASIC FOOD HANDLING GUIDELINES
The four basic rules of professional food handling are:
HOT THINGS MUST STAY HOT!
COLD THINGS MUST STAY COLD!
AVOID CROSS CONTAMINATION!
WASH YOUR HANDS OFTEN!
Prepare each new food with freshly washed hands, clean utensils, and a fresh cutting/working surface, etc.
Anyone who handles food or serving items needs to first wash their hands in the small sink.
Sick family members should stay away from the food.
OTHER FOOD HANDLING GUIDELINES
IF YOUR DISH IS HOT WHEN YOU ARRIVE, make sure that it stays hot in the warming or cooking oven.
WE RECOMMEND USING A CROCK POT WHENEVER POSSIBLE: It saves space in the ovens and keeps the food hot (or warm). Many food dishes can be pre-cooked and then transferred to a crock pot.
EGGS, MEATS & DAIRY: All foods with eggs, meats, or dairy products must be kept either hot or cold. Please do not leave any prepared foods sitting on the kitchen counter for two and a half hours. Hot foods should be cooled as quickly as possible and then reheated if necessary.
DESSERTS with dairy in them MUST remain refrigerated until served.
RAW FOODS: Any food that is to be eaten raw should be washed thoroughly before slicing. (Please remember to prepare as much as possible at home - cutting, slicing, dicing, etc.). Raw fruits and vegetables, particularly melons, are susceptible to salmonella poisons.
* * AVOID CROSS-CONTAMINATION OF DIFFERENT KINDS OF FOODS: It's very important to clean utensils and work surfaces during food preparation. Frequent hand washing is also important.
STORE MEATS IMMEDIATELY AFTER SHARED MEAL: Meats should immediately be placed in a cooler or refrigerator. If you take home leftovers that have sat out for a long time, please don't take any chances—dispose of them. Contaminated food isn't safe, even for pets!
TEMPERATURE RULES: Use a food thermometer. A thermometer is available in the HOFCC tub in the Dorcas closet. Access the USDA Safe Minimum Cooking Temperatures chart
here.
WHO'S IN CHARGE?
Shared Meal oversight is provided by several experienced supervisors. Please call Cliff or Marci Best if you have questions or concerns regarding our Shared Meal.